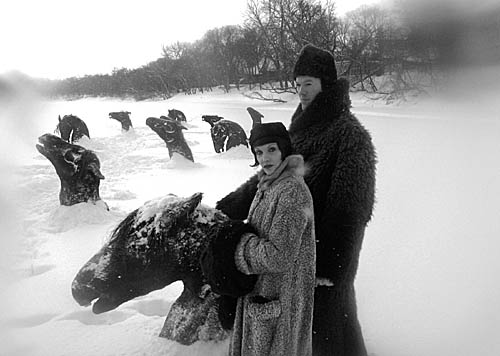 In Theatres

This past weekend I finally found a theatre in the East Bay screening My Winnipeg. I've heard about this film for the past year and have been curious about the apparently newly created genre: "docu-fantasy." It's an apt description as this film interperses facts and recreations of Winnipeg's history, with dramatizations of scenes from the director's (Guy Maddin) own childhood.
I have to admit that for the first fifteen minutes or so, I was quite worried about the direction the film was heading in (something along the lines of bad poetry combined with repetitive images). Thankfully, what follows is much more enjoyable. On one hand this is a story that embodies the "myth" and "legend" that one's hometown holds. It's also a nostaglic (but not always loving) look at an era that has passed, signaled by the demolition of buildings that once played roles in Winnipeg's myth. Lastly, I find it pretty ingenious to cast actors to play one's relatives in recreating childhood stories. This film is not perfect, but I did laugh out loud at times, and often found myself thinking or wondering about the stories of my own hometown. 4/5
In Home
Black Narcissus (1947) Powell & Pressburger - A group of nuns go to the Himalayas to start a school/hospital/community center. They find difficulty with the "natives" and with a pompous British soldier stationed there. Oh yeah, and one nun is crazy. This film is a technicolored, dramatic music epic, complete with plenty of racist and sexist lines, scenes, characters, etc. However, it's pretty to look at, though that hardly makes up for the other stuff...3/5
Diary of a Country Priest (1950) Bresson - This film is about a young priest who is not entirely welcome in his village, has tuberculosis, and often seems to have difficulty with his own faith, much less being able to advise those in his congregation. While I found the concept interesting enough and I did like the main character/actor, overall I found the film somewhat boring. 3.5/5
Occurrence at Owl Creek Bridge (1962) Enrico - A short based on story about the Civil War, specifically a confederate supporter sentenced to be hanged from a bridge, and literally we see his life pass before his eyes, and then it seems like he might be lucky after all...A really cool-looking half hour film. 4/5
The Silence (1963) Bergman - Part of Bergman's "trilogy of faith," this is a story about two sisters of very opposite temperaments on a trip, as seen mainly through the eyes of the young son of one of the sisters. While travelling, one sister falls ill, and the other tries to get some ass. Remarkable acting, beautifully shot, sensual and thought-provoking...as the best Bergman is..5/5
the World (2004) Zhang - A take on modern capitalism in a China struggling between communism of its past and capitalism in its (reluctant?) future/present. The story is very lyrical but narrative can be found surrounding the employees of an amusement park that features scaled-down monuments from around the world. Lushly saturated colors and epic in scale. 4/5
In News
*If you need a Steve Coogan fix, you will not have to wait much longer as Hamlet 2, a story about a failed actor who becomes a high school teacher and puts on a politically incorrect musical sequel to Hamlet, will be released on August 27. (All though...it's not getting the best reviews ever)
* Spike Lee is working on a bunch of stuff including a sequel to
Inside Man,
a documentary about Michael Jordan, and his upcoming release
Miracle at St. Anna
, a war story about four black american soldiers, etc. (I doubt I will ever watch this) However, did you hear that Clint Eastwood recently told Spike Lee to "shut his face"? Spike called Eastwood out on the lack of black actors in his films, and that was Eastwood's response. (
oh shit!
)
* And in other Spike news, Spike Jonze is finishing up his version of Where the Wild Things Are, but there have been massive rumors about reshoots and issues with the studio, so who knows when it will actually be released.